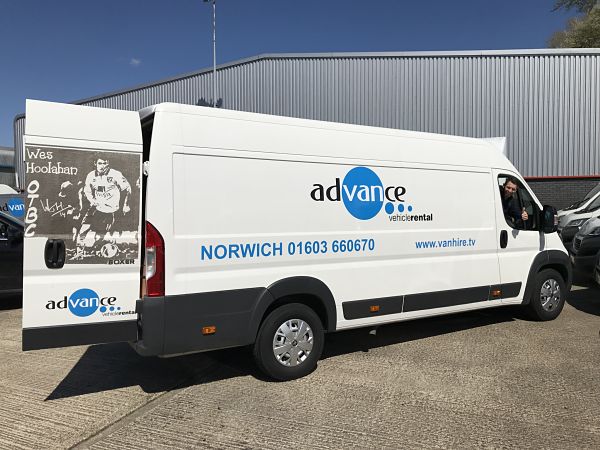 Norwich City football legend Wes Hoolahan visited the Advance Vehicle Rental depot (01/05/18) to meet local artist Ruddy Muddy.
Wes was the latest subject for artist Ruddy Muddy, after his final appearance for Norwich City FC at the weekend.
Ruddy Muddy creates fantastic pieces of art in the dirt on the back of vans, which can regularly be spotted driving around the county.
(keep an eye out for Advance vans! and let us know if you spot any).
Advance Vehicle Rental set up a meeting for Ruddy Muddy and Wes Hoolahan, whereby Wes was not only amazed at the artwork, but also very keen to show support of local charities by signing the van, enabling prints to be taken. Ruddy's unique art dubbed "graffilthy" will then be donated to local charities to raise funds.
After 10 years with Norwich, Wes made his final, 352nd appearance for Norwich, in a 2-1 win over Leeds, both assisting and scoring a goal.